What Instruments Do You Play?
Edit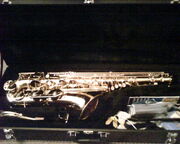 Here's a chance for people to list their multitude of instruments they play. It doesn't have to be something you play on a regular basis, it could just be a list of instruments you do know how to play. Pictured to the right here is my tenor saxophone, my favourite instrument.
I presently play and own a large assortment of instruments. Those with a * at the end of the instrument is one I own.
Soprano, alto, tenor*, baritone saxophones
Acoustic*, electric*, bass* guitars
B flat, A flat, bass clarinet
Trumpet*, trombone, baritone, tuba
Percussion, drum set*
upright piano*, grand piano, midi keyboard*
Lute, mandolin, banjo
Recorder
Post your instruments in a comment below.