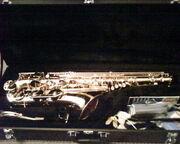 How to make a Jazz Blues Scale
Here's how to make a Jazz blues scale.
First you need to figure out your major scale using these steps:

CHART 1
C b
G

1

F
D

2

Bb
A

3

Eb
E

4

Ab
B

5

Db
F#

6

Gb
C#

7

Cb
CHART 2
Sharps ------------>
F C G D A E B

TO WRITE C MAJOR SCALE YOU MUST:
1. WRITE THE SCALE IN ASCENDING ORDER
A B C D E F G A
2. LOOK AT CHART 1 FOR THE NUMBER OF SHARPS OT FLATS
A MAJOR HAS 2 SHARPS
3. LOOK AT CHART 2 TO SEE WHAT IS SHARP OR FLAT
F,C, AND G ARE SHARP
4. ADD THE SHARPS OR FLATS TO THE SCALE
A B C# D E F# G# A
To make it a Jazz scale you use these notes:
Root, flat 3rd, 4th, flat 5th, 5th, flat 7th, 8th.
A C D Eb E G A
Ad blocker interference detected!
Wikia is a free-to-use site that makes money from advertising. We have a modified experience for viewers using ad blockers

Wikia is not accessible if you've made further modifications. Remove the custom ad blocker rule(s) and the page will load as expected.